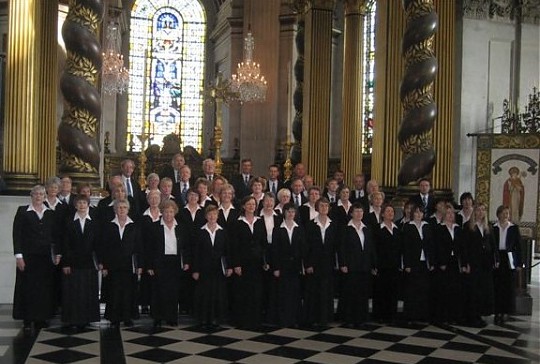 St John Singers at St Paul's Cathedral. London
Origins
St John Singers, Salisbury, has its origins in the church choir of St. John the Baptist, Bishopstone, a village six miles outside Salisbury, after which it takes its name, its roots going back to the early 1930s. The present choir was formed in 1975 by its Musical Director until 2016, John Powell MBE.   It is now a premier choir in Salisbury.
Singing Venues
St John Singers has sung in most of the churches and other venues in and around Salisbury and surrounding villages in addition to travelling and performing in a variety of venues further afield including Cambridge, Canterbury, Chelmsford, Chichester, Christchurch, Gloucester, Isle of Wight, London, Oxford, Poole, Portsmouth, Sherborne, Swanage, Wimborne, Winchester and Worcester.
Premieres
In 1986, the choir gave the first European performance of John Rutter's 'Requiem' in Salisbury Cathedral, conducted by the composer. In 2006, it celebrated the twentieth anniversary with a repeat performance of the Rutter 'Requiem', again in Salisbury Cathedral, this time conducted by the international artiste Wayne Marshall.
In 2009, the St John Singers took part in the world premiere performance in Salisbury Cathedral of a specially commissioned major work by Bob Chilcott titled 'Salisbury Vespers', which drew on the medieval Use of Sarum. This was a musical collaboration between local musicians in Salisbury under the auspices of the Salisbury International Arts Festival.
In 2011, the choir gave the first performnce of a new anthem by Bob Chilcott titled 'So the day dawn for me' written for the choir's Musical Director on the occasion of his special birthday and in 2016 a new anthem 'King of Glory, King of Peace' written by David Halls, Director of Music Salisbury Cathedral which is dedicated to the choir's Founder and Musical Director and his wife.
Overseas Trips
The St John Singers has made several visits abroad.  In 1987, it sang in
Berlin
as part of the English contribution to that City's 750th anniversary celebrations. In 1995, the choir went to
Eire
and sang the services in Christ Church Cathedral, Dublin. In 2000, the choir visited
Belgium,
singing in different venues including Antwerp Cathedral, and in 2001 went to
France
and sang in St. Etienne Caen and Lisieux Cathedral. In 2005 the choir toured
Northern Italy
, joining up with an Italian choir 'Coro Calicantus' and in 2007 both choirs joined again in
Italy
, giving concerts in Padua and Venice. In 2010, the choir visited Saintes in
France
, twinned with Salisbury, and sang in Saintes Cathedral and the Abbaye aux Dames where the choir was joined by a local French choir,
Les Voix Romanes
. Our most recent trip was to Rome in October 2017 where we sang a concert in the well known Chiesa d'Artisti and supported All Saints, the Anglican Church in Rome, for Eucharist. In May 2020, we had planned to visit Cyprus, but we had to cancel because of the pandemic. A trip to Guernsey is now on the horizon.
Personalities
Several well known personalities have appeared as guests of the choir including Mary Archer, Peter Goodwright, Esther Rantzen, Roger Royle, the late Donald Swann, (of 'Flanders and Swann'), composers Malcolm Archer, Bob Chilcott, John Rutter and Richard Shephard, author Leslie Thomas, Richard Stilgoe and the late Desmond Wilcocks.